After countless empty hints, false release dates, and four years of milking the appeal of "Thinkin' Bout You," Frank Ocean finally broke his silence with his contradictingly concise and artistically stunning sophomore album, "Blonde."
The title is printed as, "Blonde," in writing, while the title art written on the cover is spelt, "Blond." After staring back and forth between the adjacent titles on Spotify, zooming in to see if the "e" was written in light coloring as an artistic choice, and questioning my eyesight, Ocean clearly confirms the cryptic mood of his new album with the cover art alone.

Pictured: Frank Ocean with the cryptic clues he posted about Blond before the release this August.
Frank Ocean answered listeners' questions and dropped a 45-minute visual album titled "Endless," on Aug. 18. He then released "Blonde," on Aug. 20, simultaneously accompanied by a 366 page magazine titled "Boys Don't Cry."
The album release rollercoaster proved to have been worth it, since Ocean came out with not just one audio album, but instead, with three different art forms conveying the loss, confusion and lonliness that emcompasses his years spent on the down low.
Standing true to the psychedelic R&B genre that "Channel Orange," was praised for, Ocean crafted "Blonde," utilizing less narrative songwriting techniques, but preserving a similar sound. With a scarce amount of drums and an almost score-like sound, the album seems loose and unfinished—further contributing to this oddly disorienting theme that has seemingly encompassed the past four years Ocean's public interactions.
However, the rawness and fundamentally increased strength of Ocean's vocals since 2012 effectively capture the subtle narrative within each track. Without clearly storytelling like "Channel Orange" did, "Blonde" leans toward a more interpretive and almost chaotic approach to conveying the nostalgia that exists within each song.
Between the Beatles-inspired acoustics in "White Ferrari" and the overwhelming static in "Futura Free," many tracks sport the common thread of an unfinished work—possibly suggesting a message of Ocean's artistic identity as a musician constantly building and working towards his own messages. "Be Yourself," with his mother lecturing over the phone about refraining from use of drugs and alcohol over an instrumental track, mimics the nature of "Not Just Money" off of the previous album. The rawness of the speaker's voice and humane stuttering in the one-sided conversation greatly furthers the unscripted nature of  the album.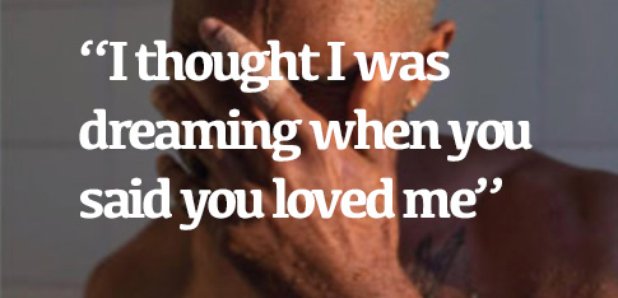 Pictured above: Lyrics to the song "Ivy" 
"Be Yourself" and "Good Guy" both reflect on the struggles Ocean faced with his sexuality, as "Nikes" effectively comments on American racial conflicts. The commercially leading track's extremely psychedelic vocals sing, "RIP Trayvon, that n**** look just like me," as he comments on police brutality and contributes to the current political agenda.
"Pink + White" sounds a bit like "Sweet Life" off of "Channel Orange" with its light quality as compared to the rest. The title is likely a play on "Pink Matter" and "White" off the last album as well, existing as the most listener-friendly track on the album. The outrow subtly features Beyonce's background vocals, which are completely missable on the first few listens— effectively contributing to the consistency of subtleties in this work. Ocean also credited Kendrick Lamar, Jamie xx, Kanye West, Pharrell Williams, and Andre 3000—the only recognizable guest—as contributors.

Frank Ocean approaches "Blonde" with an organic craft, experimenting with disconnected storytelling techniques and further defining his identity as an artist.
↑ Back to top